During the current times of the coronavirus pandemic, lots of places and attractions have been closed to the public. However, most outdoor locations remain open, including the Guadalupe River. Located in the middle of San Antonio and Austin, the Guadalupe River stretches all the way to the Gulf of Mexico. Although most guests come to the river to go swimming, there is so much more to do! Here are a few other activities to try during your trip to Rio Guadalupe Resort!
Tubing on the Guadalupe River
Tubing – The most popular way to spend a day on the Guadalupe River is to go tubing. Trips down the river last about 2-5 hours and there are shuttles available that can take guests upstream in order to tube with the current. If you haven't tubed on the Guadalupe River, put it on your bucket list! The resort offers tube rentals, making it easy and affordable to spend the day on the water. Don't forget to pack your sunscreen, it gets pretty hot in the summer! Coolers are also allowed in order to bring drinks and stay hydrated, but be sure to check out rules regarding open cans on the river. Read Rio's Guadalupe River Tubing Guide.
Guadalupe River Rafting & Kayaking
Other water activities on the river include rafting and kayaking. Personal kayaks and rafts are allowed on the river (as well as tubes) for a small fee, but traveling with them may be a burden, which is why Rio Guadalupe is a great spot to rent out equipment. Shuttles are also available to use for rafting and kayaking trips.
Guadalupe River Fishing
Fishing- Brown trout, Guadalupe bass, and rainbow trout are just a few of the many types of fish you can catch in the Guadalupe River. Fishermen come to Rio Guadalupe from all over Texas to enjoy what the river has to offer. Fly fishing is also permitted year-round on Guadalupe River! Trout is the most common catch due to the fact that they are stocked every winter. The average size of the trout caught is about 12 to 14 inches. Check out the Best Fly Fishing Guides on the Guadalupe River.

Swimming in the Cool Waters of Guadalupe River
The Guadalupe river is definitely a swimming hot spot! Especially in the summertime, the river is one of the prettiest and most popular choices for natural swimming locations in Texas. Be sure to account for the currents, which may make swimming a little more difficult at times. It is also suggested that visitors swim together and swim only in designated areas in order to stay safe.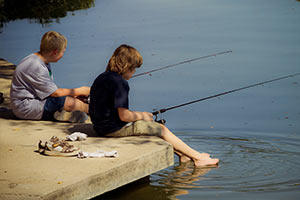 Activities for the kids on the Guadalupe River
There are several parks and playgrounds located around the Guadalupe River. Rio Guadalupe Resort is sure to keep your kids busy with a playground and swimming pool located at the resort for guests. These amenities are a perfect way for your kids to take out any extra energy they have left after a day on the river! Read our blog on Things to do in New Braunfels, TX for more information on kid-friendly entertainment!
Need a place to stay? The Guadalupe River can be perfect for a day trip, but with so many different amenities to offer, we can see why you would want to stay a little longer. Rio Guadalupe Resort offers lodging in cabins and RV parks!
Due to COVID-19 some amenities may currently be closed or operating on new hours. However, most places plan to open back up soon, and nature isn't closed!