Guadalupe River Tubing: A Quick Guide
Seeking a truly Texan experience in the Hill Country? Grab an inner tube and head to the Guadalupe River for a leisurely float! Keep reading for tips on how to have a fun and safe tubing adventure on the Guadalupe River.
A Quick Guide to Tubing on the Guadalupe River
Do not take valuables on the river.
In addition to the beautiful views and tree-lined banks, the best part about tubing on the Guadalupe River is the mini-rapids! With that being said, it's easy to lose items during your float. Do not take your car keys, house keys, or valuable items on the river. If you must bring your phone on the tubing trip, make sure to purchase a waterproof pouch with a lanyard or clip to protect it from getting wet and/or lost.
Don't wear flip-flops on the river.
Depending on river flow, it may be necessary to exit your tube in shallow areas. We highly recommend wearing closed-toe water shoes with rubber soles when floating the Guadalupe River. An old pair of sneakers are perfect Guadalupe River shoes, as long as you don't mind getting them wet. You'll be thankful for this tip if you find yourself walking across slippery rocks!
Protect your skin from harmful UV rays.
It's common for tourists to underestimate the power of the Texas sun while floating the Guadalupe. To avoid looking like a lobster post-float, consider the following:
Before your float, apply a water-resistant, broad-spectrum sunscreen with an SPF of 30 or higher. Don't forget to bring the bottle with you to reapply!
Protect your face from harmful UV rays by wearing a hat.
If you sunburn easily, throw a long-sleeve t-shirt on over your swimsuit for added protection.
Wear sunglasses to shield your eyes from the sun. The Guadalupe River is notorious for snatching designer sunglasses, so leave your expensive shades at home.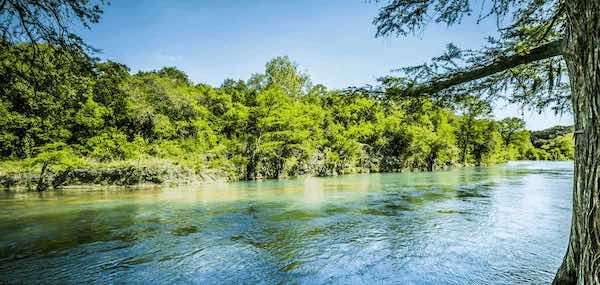 Stay hydrated.
Make sure to drink lots of water when floating the Guadalupe River. Yes, technically beer is made with water, but that won't be enough to prevent dehydration under the hot Texas sun. Bring water and Gatorade, just in case. 😉
Don't trespass on private property.
This tip may sound like a no-brainer, but it's easy to get caught up in the moment when tubing the Guadalupe River. Even if the rope swing looks fun, it's not worth it! The fine for trespassing is up to $500. Keep in mind, it's also against the law to jump off bridges, trees, rocks, etc.
Plan accordingly when floating with children.
Your child should be older than six and know how to swim to float the Guadalupe River. If you have small children, consider floating down the Comal River instead. We recommend that all children and weak swimmers wear a lifejacket. Sundays and weekdays on the river tend to be more kid-friendly than other days.
Don't bring glass or foam on the river.
Glass and styrofoam are not allowed on any portion of the Guadalupe River. Coolers and ice chests may be checked at random points by Law Enforcement Officials and are required to have a locking mechanism on the lid. A simple bungee cord wrapped around the cooler usually does the trick.
For more information on Guadalupe River Restrictions and river flow, visit guadaluperiver.com or check with your local river outfitter.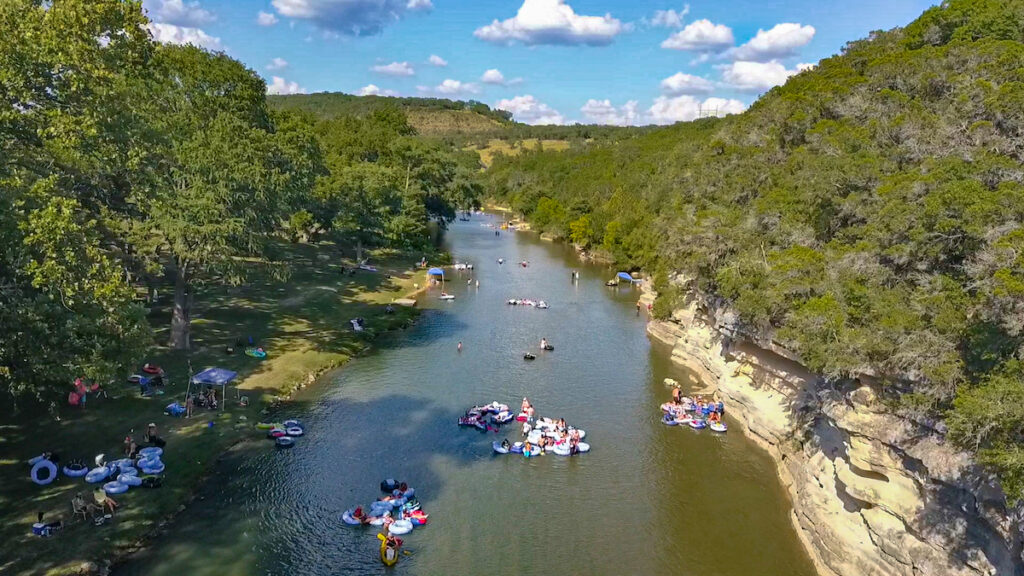 Rio Guadalupe Resort offers tube rentals and shuttles along the Guadalupe River.
Attention: Some services may be limited due to COVID-19. For more information, click here.