The temperatures have begun to rise. The days are longer, and the nights shorter. This can only mean one thing – summer is near! Summertime is the season for sunscreen, barbeques, fishing trips, family vacations, spending time with friends, and floating down the Guadalupe River! The Texas Hill Country has an abundance of breathtaking views and awe-inspiring attractions, but the Guadalupe River possesses a beauty unlike any other. Limestone cliffs and root-exposed cypress trees line the meandering banks of the Guadalupe River to create the perfect ambiance for a relaxing summer tubing trip. Keep reading for answers to frequently asked questions about tubing the Guadalupe River in New Braunfels, Texas.
FAQ – Tubing the Guadalupe River in New Braunfels, TX
How long does it take to float down the Guadalupe River?
The float down the Guadalupe River can take anywhere from 2 to 5 hours, depending on the speed of the current, the crowd, and the number of people in your party. Also, you may have to wait a few minutes for your shuttle/transportation to arrive once the float is complete. There are also many places to float from, and long floats may last up to 5 hours. Get ready to make memories that will last a lifetime!
Where should I begin my float?
There are many places to start your float on the Guadalupe. The horseshoe loop is one of the most popular destinations, which is a relatively small bend that will take around two hours. However, it can be challenging to find parking at the horseshoe during peak season. Rio Guadalupe Resort provides tube rentals and shuttles so you don't have to worry about parking or driving. If you are planning to bring your own equipment to tube the river, you can still use our shuttle for a small fee. We'll drop you and your tube off upstream to launch for a 2 to 5-hour float. Eventually, you'll wash up on the banks of the Resort. Talk about convenience!
Regardless of where you choose to float from, expect to spend $15-30 per person, and don't forget to book your trip in advance!
What can I bring on the river?
While alcohol is permitted, glass, Styrofoam, and Jello shots are not permitted on the river. Disposable containers less than 5 ounces are also banned on the river. One cooler is allowed per person.
NOTE: There is a can ban inside the New Braunfels city limits.
The disposable containers ordinance applies to the Comal River and the portion of the Guadalupe River that falls within the New Braunfels city limits. It prohibits disposable food and beverage containers, Disposable containers include but are not limited to, metal and aluminum cans, glass containers, Styrofoam cups and containers, cardboard containers, paper sacks, boxes, paper napkins, and towels, and plastic containers and utensils. Luckily, since Rio Guadalupe Resort is located outside of city limits the can ban does not apply.
Are there any other rules on the Guadalupe River?
Other rules enforced along the river include no jumping from bridges, dams, or trees, and no littering. Keeping the river clean is a huge priority, so Rio Resort will provide mesh trash bags for your float. Items you may want to bring include a waterproof speaker, a water bottle or drink, sunscreen to avoid a nasty burn, and water shoes to help ease getting in and out. Blast those tunes, and don't forget to stay hydrated!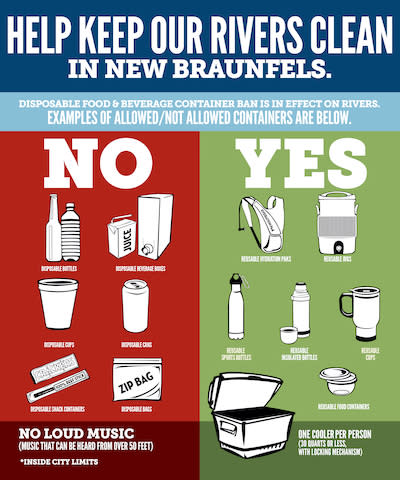 Does the Guadalupe River allow other activities?
While tubing is the most popular activity, the river also permits kayaking, canoeing, rafting, paddle boarding, fishing, swimming, and more. Whatever water adventure your heart desires, the Guadalupe River is a perfect destination for your next trip! Click here for more information on Guadalupe River Tubing.
Related Articles: Guadalupe River Tubing: A Quick Guide
Rio Guadalupe Resort offers tube rentals, cabin rentals, and RV campsites on 25 acres along the Guadalupe River in New Braunfels, TX. We have everything that you need for the ultimate summer river trip. Come visit us soon!