Looking for fun events in New Braunfels this summer? You've come to the right place! Keep reading for a quick list of local happenings we think you and your family will love.
June 10 – July 31 – Slide the Slopes Slip N' Slide Festival
Slide the Slopes is the longest and biggest inflatable slip and slide festival in the world. They create a fun and entertaining tubing atmosphere that the whole family will love! With all the chaos in the world, there has never been a better time to make the most fun and important memories with family and friends. At Slide the Slopes, nature provides the background, and they provide the slides and tubes. Get ready to have some fun!
Presented By: Texas Ski Ranch 
Location: Texas Ski Ranch 6700 N IH 35, New Braunfels
Recurrence: Recurring weekly on Sunday, Wednesday, Thursday, Friday, Saturday
June 21 – August 2 – T Bar M Day Camp
For 40 years T Bar M Camps has been the home for thousands of campers, families, and college students during the summertime. Play hard, laugh big, and create memories that last a lifetime! Join T-Bar this summer for outdoor adventures, character-building activities, and Christ-centered fun:
Summer Family Camps
Overnight Camps
Day Camps in New Braunfels
On-the-Road Camps Around Texas
Presented By: T Bar M Camps and Retreats
Location: T Bar M Camps and Retreats 2549 W State Hwy 46, New Braunfels
Weekly – Senior Saturdays
55+up Active seniors meet every Saturday morning at the Headwaters at the Comal Nature/Conservation Center. They offer SAFE, outdoor activities and require masks, temperature checks and social distancing. Enjoy card games, board games, line dancing, stretching, nature walks and socializing!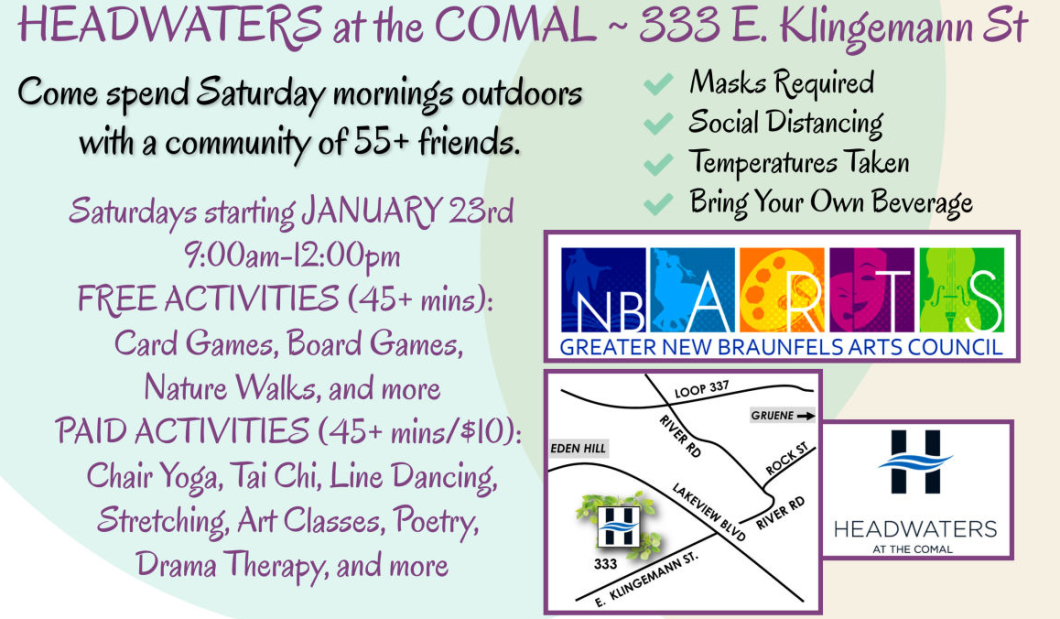 Presented By: Headwaters at the Comal
Location: Comal Nature Conservation Center 333 E. Klingemann St., New Braunfels
Recurrence: Recurring weekly on Saturday
June 6 – August 15 – Texas Ski Ranch Summer Camps
Camp TSR offers innovative environments and instruction on wakeboarding, scootering, skateboarding, wakesurfing, paintball, and other action sports. Texas Ski Ranch offers half-day, full-day, and overnight camps for kids to enjoy fun in the outdoors daily with field games, kayaking, arts & crafts, plus much more.
Presented By: Texas Ski Ranch
Location: Texas Ski Ranch 6700 N IH 35, New Braunfels
July 1 – STEVE EARLE & THE DUKES LIVE AT GRUENE HALL
Presented By: Gruene Hall, Texas' Oldest Dance Hall
Location: Gruene Hall, Texas' Oldest Dance Hall 1281 Gruene Rd, New Braunfels
July 3 – Founder's Day Parade
Join the fun at the 175th Founder's Day Parade in New Braunfels, Texas. The parade will be conjoined with the Sophienburg's Fourth of July parade this year to celebrate the 175th Anniversary of the founding of New Braunfels, Texas. This year's theme for the parade is History Flows Here!
The parade will step off at 9 a.m. Immediately after the parade, there will be a Patriotic Program.
Presented By: Since 1845
Location: The route goes from Civic Center, down Seguin, around the Plaza, and out East San Antonio, across the bridge to disband at Liberty Street.
July 4 – Fireworks
Join us to celebrate with the City of New Braunfels with a firework display over Landa Lake! Open seating will be available at the Golf Course. Fireworks can be seen throughout Landa Park, the Landa Park Golf Course at Comal Springs, the Fredericksburg Baseball Fields and several other places in the city as well, including Fischer Park. Pack some snacks, grab your kiddos and meet us out there! Bring your radio and tune into 1420 KGNB AM/103.1 FM for music coordinated with the Fireworks.
Please bring your own lawn chairs and blankets.
Presented By: Since 1845
Location: Landa Park Golf Course at Comal Springs 180 Golf Course Rd, New Braunfels
July 9 – 100 Smokes Performs Live at Happy Cow
Texas country band 100 Smokes performs live at Happy Cow outdoor music venue, kitchen, and bar. Shot specials every time a train goes by.
*Best Backyard Concert Venue in the Wurstoplex
*Voted Best Hamburger in the Wurstoplex
*Best Bartender of the Wurstoplex
Presented By: 100 Smokes and Happy Cow Bar
Happy Cow Bar 9103 FM 1102, New Braunfels
August 6-8 – New Braunfels Peddler Show
The Peddler Show returns to New Braunfels Civic & Convention Center August 6th – 8th for a unique shopping experience! You can shop from talented designers, artisans, creators, and craftsmen from all over the country! Now is the time to shop for all those items on your holiday shopping list! With customization and personalization onsite, you will find anything and everything you are looking for at The Perfect Street of Shops. It's THE Texas Shopping Tradition…It's The Peddler Show in New Braunfels!
Presented By: The Peddler Show
New Braunfels Civic/Convention Center 375 S. Castell Ave, New Braunfels
August 14 – Lance Bass VIP Experiences – New Braunfels, TX
Who says throwbacks are reserved for Thursdays? The Pop 2000 Tour delivers the TRL moments that will bring you right back to the early 2000s. POP 2000 TOUR hosted by Lance Bass of *NSYNC, features performances by platinum-selling POP2K artists O-Town, Ryan Cabrera and LFO. Featuring performances of the decade's biggest songs "Bye Bye Bye", "All or Nothing", "On the Way Down", "Summer Girls" and more, the Pop 2000 Tour reads like a who's who of chart-topping hit makers. Lance Bass of *NSYNC, O-Town, Ryan Cabrera, and LFO provide the soundtrack for a Napster fueled trip down memory lane for audiences that came of age in the early aughts.
Presented By: 1836 Entertainment Group, LFO
Location: Texas Ski Ranch 6700 N IH 35, New Braunfels
These events should be more than enough to keep you and your family entertained during your next trip to New Braunfels! Don't forget to make time for tubing the Guadalupe River, fishing, hiking, and sitting by the riverbank chilling and grilling. See you soon!
Click here for more Summer 2021 Events Near New Braunfels

Rio Guadalupe Resort is located right in the center of all the action. With onsite tube rentals, cabins, and RV sites, we have everything you need for a fun-filled Hill Country vacation.