Over the last five months, my husband, 12-year-old, and I have been spending A LOT of time together in our home. I'm sure many of you can relate to this! On a whim, we decided to book one of the two-bedroom riverside cabins at Rio Guadalupe Resort in New Braunfels, Texas. From the moment we arrived, we were thrilled to experience a change of scenery! If you find yourself craving a break from monotony, Rio Resort is the perfect getaway. Honestly, we've only been home a week and I'm ready to go back.
The cabin rentals at Rio Guadalupe Resort range in size from 1 to 3 bedrooms. We booked a two-bedroom riverside cabin for four people; two adults and two children. Now, if you're the kind of person who can leave town with two t-shirts and a pair of shorts…this blog post isn't for you. However, if you consider yourself to be a meticulous planner, especially when it comes to packing for a trip, you've come to the right place! Keep reading for my guide on what to pack when renting a cabin at Rio Guadalupe Resort.
Guadalupe River Cabins – How to Pack for Your Trip
Sleeping Accommodations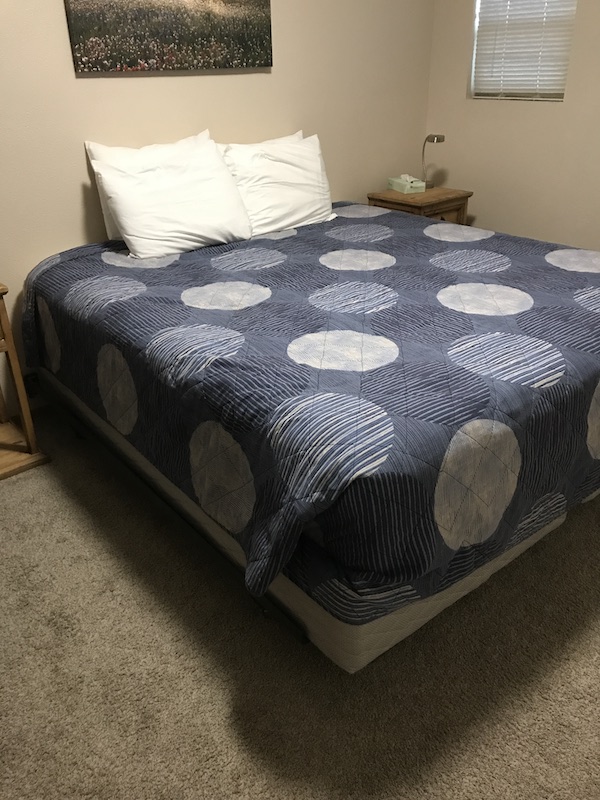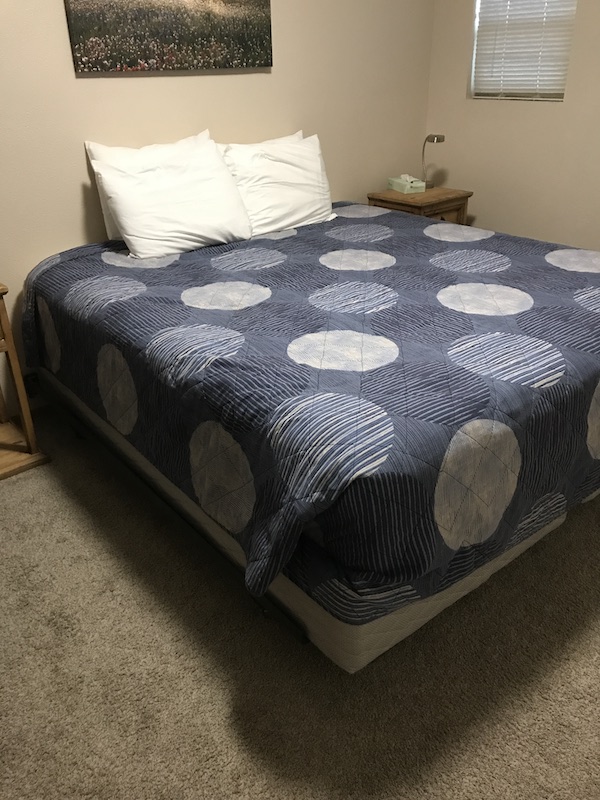 Our two-bedroom cabin had one king-sized bed and one full-sized bed, each equipped with four pillows, sheets, and a comforter. Additional bedding included one soft blanket per room, which was folded up on the shelf/closet. Each room had two side tables with two reading lamps and a private air conditioning unit. I love sleeping in a cold room, especially after spending all day in the sun! Even though temperatures were 100+ outside, these AC units could've made a polar bear shiver.
** TIP: Bring hangers if you like to hang your clothes when traveling.
Bathroom Accommodations
The two-bedroom cabin had one centrally located bathroom stocked with the following items:
4 bath towels
4 washcloths
2 hand towels
1 black make-up washcloth
1 small bottle of shampoo
1 small bottle of conditioner
2 small bottles of lotion
2 bars of soap
3 make-up remover wipes
3 rolls of toilet paper
1 plunger (hidden under the sink)
** TIP: Don't forget to pack extra towels for the River! There's only one centrally located bathroom…so you may want to pack some air freshener just in case. It would have been convenient to have a bath mat, so I'll probably bring one with me next time.
Kitchen and Living Room Accommodations
For starters, everything at Rio Resort is sparkling clean, including the kitchen. If you plan to eat out, you can probably skip to the next section of this blog. If you want to cook meals in the cabin, here's what you are working with:
4 dinner plates
4 coffee mugs with 4 saucers
4 cutlery set-ups (fork, knife, spoon)
4 drinking glasses
1 partial roll of trash bags
1 full-sized fridge
1 ice cube tray
coffee maker (drip coffee pot)
can opener
a few pots and pans (view image)
dish soap
** TIP: The fridge doesn't have an ice-maker or filtered water, so pack accordingly if that is an issue for you. We drank water from the tap and purchased a bag of ice at the on-site convenience store. You can also bring your own ice cube trays. I packed a pitcher so I could make some peach tea while we were there. The kitchen didn't have chopping knives or cooking utensils, so you'll need to bring your own. Trust me, cutting potatoes with a butter knife is not fun! I suggest packing paper towels and a dish towel to dry your hands. You might want to bring something to scrub the dishes with too. The Resort provided coffee, but we drink several cups a day so we brought our own. Just keep in mind that if you bring your own coffee, you'll need to pack filters.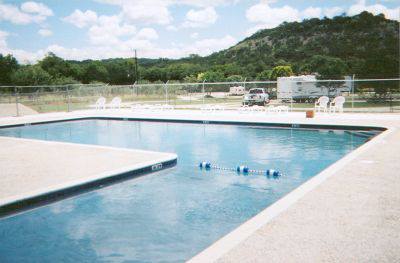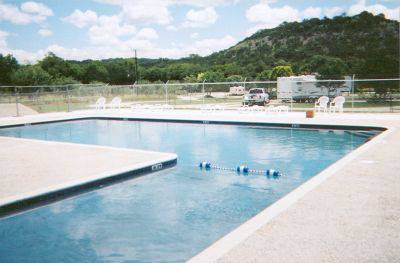 Floating the Guadalupe River During the COVID-19 Pandemic
My family and I had a wonderful time at Rio Guadalupe Resort. Even though tubing and shuttle services were closed due to COVID-19 restrictions, we were still able to buy tubes from the store, park at the "Horseshoe," and float down the Guadalupe River back to the Resort. Although, we actually spent most of our time swimming from the beach at the Resort. The swimming pool was also open and mostly empty the entire time we stayed.
My #1 Insider Tip for Staying in the Cabins at Rio…
If you plan on swimming in the Guadalupe River from the Resort, bring a shallow bucket to set-up a feet washing station outside your cabin. The beach at Rio is lined with grass, so you'll likely have dirty feet when you walk back to your cabin. Also, you will need proper river shoes! You can bring some from home or purchase closed-toe water shoes at the on-site convenience store.
Other items you may want to pack:
Folding chairs for lounging by the River
A small ice chest
A hammock (just for fun!)
Bug Spray and Sunscreen
Tubes (Due to COVID restrictions, you won't be able to rent a tube).
– Guest blog post written by Kristina Gautreaux
Have a great trip!
There's no doubt about it, you are going to have a fabulous time at Rio Guadalupe Resort. We can't wait to see you! Check out our other blog posts for tips and fun things to do when visiting New Braunfels, Texas!