Chasing Rainbows in the Lone Star State – A Brief History of Trout Fishing in Texas
Most people think they need to travel north to experience the thrill of reeling in a beautiful Rainbow Trout. Not true! Thanks to the completion of the Canyon River dam in 1968, the Guadalupe River in Texas is rated as one of the top 100 trout streams in the United States. Keep scrolling for a brief overview of the history of trout fishing in the Texas Hill Country.
Spring-fed with headwaters in the Edwards Plateau, the Guadalupe River is the only stream in the state that can support trout year-round. However, because trout are cold-water fish, they do not occur naturally in the extreme Texas heat. Fortunately, the completed dam created a unique opportunity for chasing rainbows in the Lone Star State.
Speaking of lone star, did you know that in 1966 the first 10,000 trout in the Guadalupe River were donated by the makers of Lone Star Beer?
According to Texas Parks and Wildlife Magazine, the owner of Lone Star Brewery in San Antonio had a penchant for trout fishing and sponsored "trout tanks" at boat trade shows and fairs to help introduce children to the magical world of trout fishing. After a boat show, the brewery approached TPWD requesting permission to release leftover trout into the crystal-clear waters below the Canyon Dam. TPWD was already in the process of studying the effects of the chilly water and hypothesized that the cold water coming from the bottom of the deep reservoir would drive many species downstream, thus creating a sport-fishing void upstream near the dam. The timing couldn't have been more perfect!
In the spring of 1966, several hundred Texans flocked to the Guadalupe River to reel in a new species of fish and witness history in the making.
Fast-forward to today. The Guadalupe River is a well-known destination for trout fishing. TPWD and Guadalupe River Trout Unlimited release thousands of Rainbow Trout every year near Rio Guadalupe Resort at the 4th Crossing Bridge. When winter conditions run anglers out of northern trout fishing spots, they can still chase rainbows in Texas.
Click here for this season's trout stocking dates!
Get ready for GRTU Troutfest 2022 and book a cabin or RV site today!
---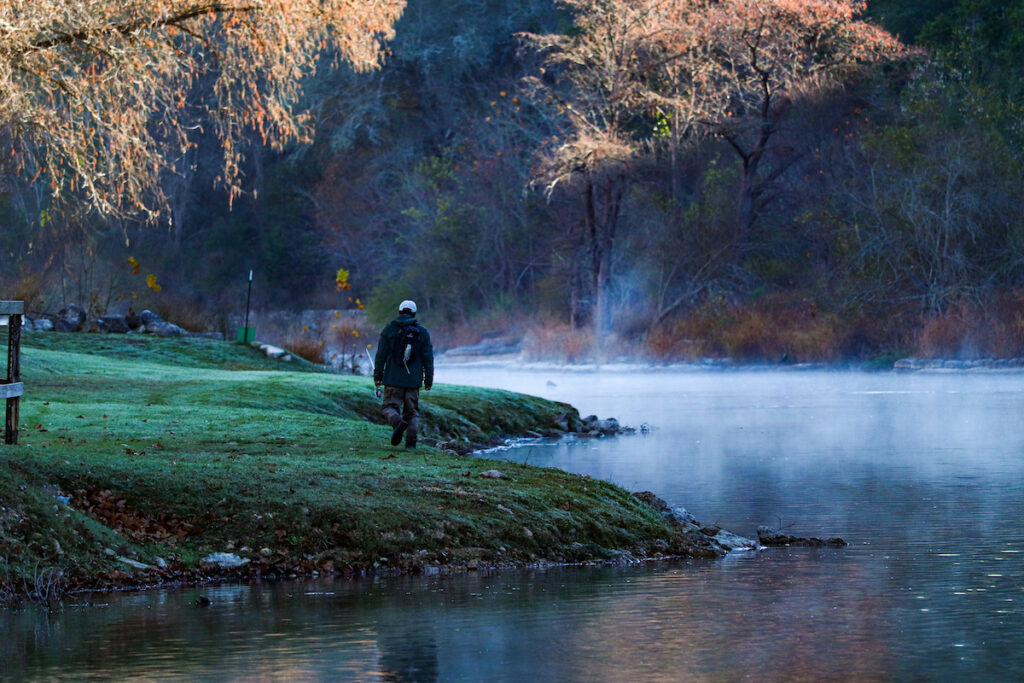 ---