How to Set up an RV Campsite – Tips for Newbies
Setting up an RV Campsite for the First Time
Newbies to RV camping are often intimidated by the thought of setting up their RV campsite for the first time. After all, the key to a successful camping trip is a good campsite. Luckily, we put together a quick guide for
setting up an efficient RV base camp. Keep reading for helpful tips for your first RV campout!
Backing into an RV Campsite
Pulling into an RV park for the first time can be a daunting task for travelers new to the RV lifestyle. To calm nerves and avoid awkward mistakes, pull up the RV park map before departing for your camping trip. Most RV parks have a downloadable map on their website. You can also screenshot the map and save it in your phone's photo library to have handy if you lose cell service. You should also review the RV park rules ahead of time.
The first thing to do after checking in to the RV park is back in your rig. It's helpful to have a spotter when backing in an RV or travel trailer. Have your spotter stand near the back of the campsite and guide you with hand signals. He or she can steer you away from firepits, trees, and other obstacles that may otherwise be difficult to see. For reference, a closed fist generally means "STOP." Don't hesitate to ask a neighbor to help when traveling alone. RV folks are always willing to lend a hand.
Balancing Your Rig
Your next step is to level your rig. You can use a bubble level to check the left, right, front, and back of the RV. Stack blocks in a pyramid shape in front of the wheel as needed. Then pull your rig slightly forward until it is on top of the blocks. You may have to add a few more layers here and there until everything looks nice and even. You can also download an app like Level Mate Pro to help you balance your rig. Apps like these take the guesswork out of the process by providing specific instructions such as "lower the left side three inches." It's best to get as close to level as possible. Remember, most RVs are around eight feet wide. A one-inch slope across eight feet makes a big difference when placing items on the counter, lying in bed, etc.
Tip: Don't attempt to level the RV with your kids inside since they tend to get antsy and could throw off your measurements. Instead, let them run around and explore the campground while you set up your campsite.
Once your rig is balanced and the wheel/hitch stabilizers are in place, it's safe to unhitch your vehicle. Set the emergency brake right away when traveling in an RV.
Hooking up the Electricity
Plugging in your RV is pretty self-explanatory; however, it is important to note that if your RV runs on 30 amps and there is only a 50-amp receptacle, you will need an adapter for safe use. You'll also want to check the breakers above the plug. If your RV doesn't have a built-in surge protector, you should buy one as soon as possible to protect your rig from damage due to bad connections.
Water Connections – Hooking up Your RV
Next is setting up the water and sewage connections. Once you've attached the freshwater hose (preferably with a filter), you'll need to put on gloves and connect the sewage lines by clicking them into place.
Thanks for taking the time to read our tips on setting up an RV campsite. We hope you feel more confident about your upcoming camping trip! There are many resources out there to help you continue to prepare for an awesome camping experience. See you soon!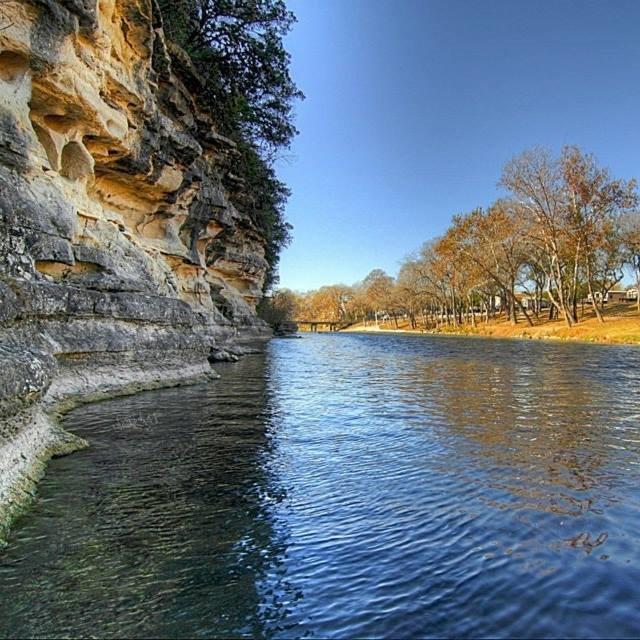 Looking for a pet-friendly RV park in Texas? Rio Guadalupe Resort is nestled on 25 wooded acres with ¼ mile of Guadalupe River access. Our RV Park and Resort offers cabins and full hookup RV sites with amenities including a sparkling pool and on-site dog park.